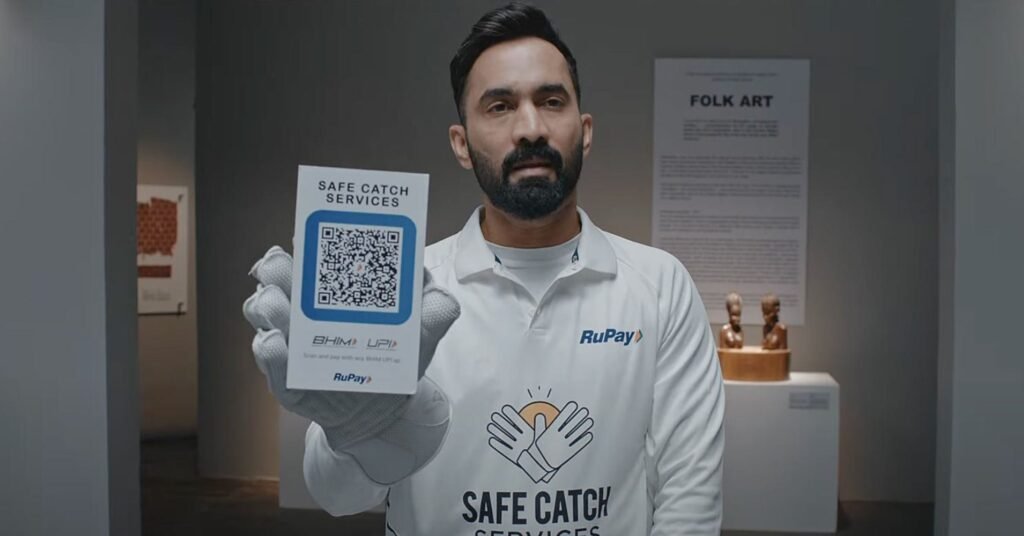 Earlier this month, the National Payments Corporation of India (NPCI) launched its IPL campaign to promote its credit card offerings through a dedicated campaign called 'RuPay Credit Card on UPI'. The payment network aims to create awareness among customers about its RuPay credit cards, which allow payments through the UPI platform. The campaign, conceptualized by DDB Mudra Group, includes four ad films, with two already launched during the ongoing IPL tournament.
The first ad features cricketer Dinesh Karthik and shows an aesthete browsing an art gallery who accidentally displaces an art piece, sparking a domino effect. The man is then provided with paid catching services by Karthik to save the falling vase, highlighting the benefits of RuPay credit card linkage on UPI. The second ad film sees a woman assist a man stuck in a quagmire, where charges can only be paid through UPI.
Both ad films demonstrate the usage of RuPay credit cards with UPI in an unusual yet entertaining way, deviating from the conventional advertising that we have come to expect from fintech brands.
Rahul Mathew, Chief Creative Officer at DDB Mudra Group, says that the creative for this year's campaign is a continuation of the same humorous tonality from last year, aiming to position RuPay's credit card as the only card that can be used on UPI. Mathew suggests that the focus should be on how celebrities are used, and how relevant they are to elevate communication, and the recall value of the ad films is not attributed to any celebrity but rather the communication, scripting, and presentation.
In conclusion, brands are increasingly onboarding cricketers for their marketing campaigns during sporting events such as IPL, and the aim is to stay relevant and visible during the popular spectacles. However, the key to any campaign's success is to make the best use of celebrities, showcasing them as more than mere mouthpieces, and writing the proper script to engage and entertain the audience.