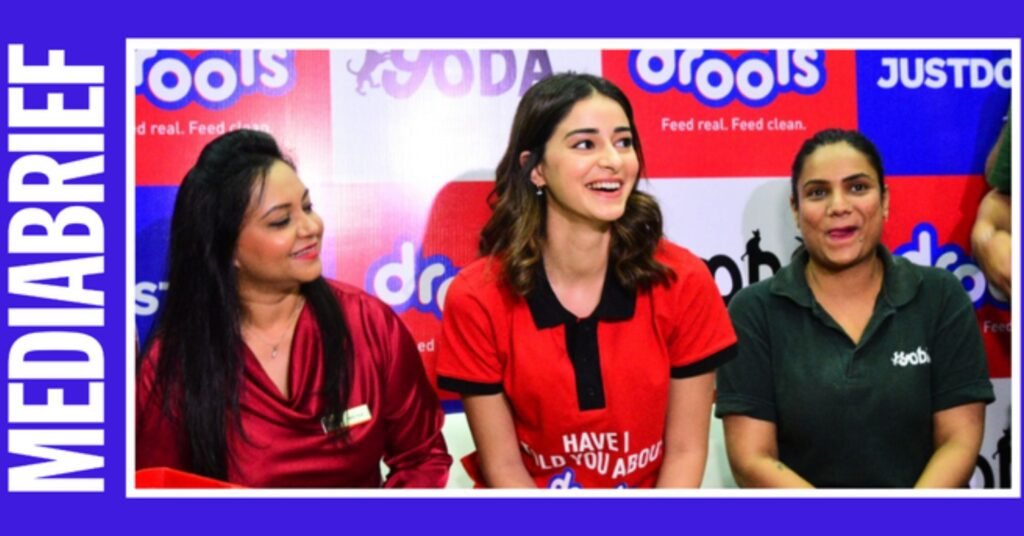 For its most recent animal welfare campaign, pet food manufacturer Drools has partnered with beautiful actress Ananya Pandey & pet retailer JUSTDOGS. On Wednesday, December 28, 2022, the actress donates six months' worth of dog and cat food to the Youth Organization for the Defense of Animals (YODA) in Khar West as part of a donation campaign for dogs and cats.
Drools have more than 30 years of experience working in the field of animal feeding. The company has always been at the frontline of efforts to improve the lives of animals by producing the highest quality pet food. Because the company prioritizes the well-being of animals, it ensures that it adheres to its values by adhering to the appropriate procedures. They work with celebrities with the same beliefs as the company regarding the treatment of animals and partner with such personalities. This makes it possible for the project to progress to the next level and engage a larger audience. Because of Ananya Pandey's compassion toward animals, they have decided to collaborate with her. Both the businesses and Ananya want to donate food and other necessities to the stray as a component of the campaign.
This new endeavor has Ananya Pandey thrilled with anticipation. She appreciates businesses like Drools that are willing to participate in such endeavors. She stated that we adhere to the same values and beliefs about the treatment of animals. She also shows her deepest sympathies to the innocent and says they should be showered with infinite loving and care, not apathy. On the other hand, it is not a surprise that millions of abandoned and stray animals face starvation daily. Through her collaboration with Drools, she will be able to positively impact the lives of the furries, which fills her with joy and gratitude. She also mentioned that one of her hopes and prayers is that everyone will do all they can to make a positive change in the lives of animals. A small amount of attention and concern extended in all directions may unquestionably go quite a distance.
Drools is motivated by its emphasis on business excellence and its strong passion for contributing to society by engaging in various animal welfare activities. This dedication helps drive the company's growth. Similarly, the company donates pet food to several non-governmental organizations (NGOs) and animal shelters in the surrounding area to show their support. This significant fundraising effort got its start in the year 2019, and it continues to this day.
In the future, the company hopes to further extend and improve its work for many similar endeavors, with the ultimate goal of providing millions of people living on the streets and in homeless strays with food that is not only nourishing but also delicious. In addition, it seeks to persuade public members to construct homes that may be used as shelters for homeless animals, adopt animals as pets, feed and appropriately care for them, and participate in events that will be held in the future related to animal welfare.